Circulation Pump System 2000 ml
Description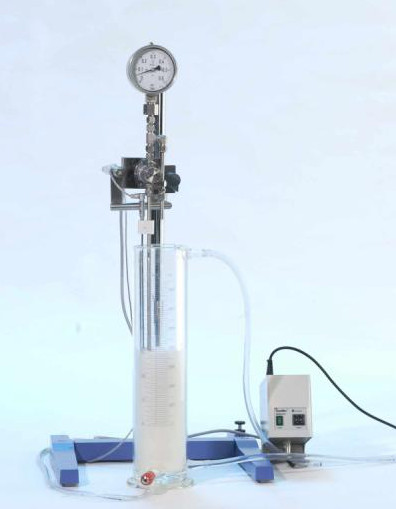 This apparatures utilizes a test vessel that offers a helpful balance of test liquid and foam volume combined with easy handling.
Zur Thermostatisierung ist ein Thermostat nützlich. Ein programmierbarer Thermostat erlaubt zudem Untersuchungen von Tensidlösungen auch bei kontinuierlich veränderter Temperatur und erlaubt so die rasche Messung von Schaumfähigkeitsprofilen in Abhängigkeit von der Temperatur.
It may be operated alone or in combination with COINTIFOAM.
Technical Details
recise thermostat control thanks to double-jacked design
2 liter total volume; 500 ml inital volume and up to 1500ml foam volume
Zero point at 500 ml - level
2 scales for foam:

in milliliters: 0 - 1500 ml
in percent: 0 - 300 %

BDrain valve at bottom for easy cleaning
Precision gear-wheel pump, adjustable (270l/h max.)
Slimline bypass (pipe system) with manometer
Optimized current flow and nozzle
Easy-to-handle mount for supporting pump and bypass
Temperature sensor (optional)